Agenda of events
Guitar Concert - Luis Malca Contreras
LUIS MALCA CONTRERAS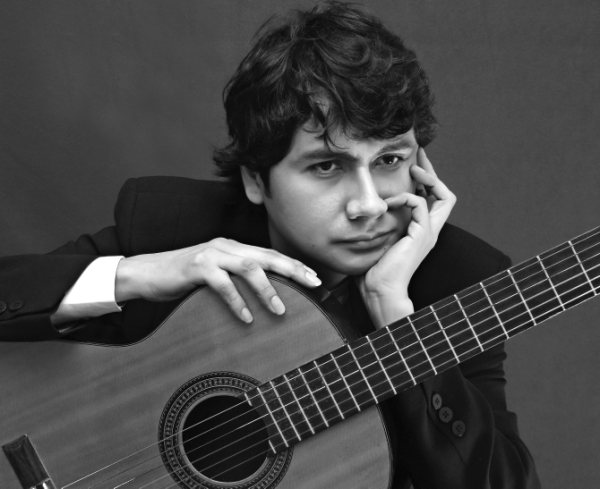 Spanish - Peruvian guitarist Luis Malca Contreras began his musical education in Lima, at the National Conservatory of Peru, later in Spain at the Conservatory of Music Adolfo Salazar and "Real Conservatorio de Música de Madrid". He has a master degree in "Musical Interpretation" from Andalucia University.
He is also an avid chamber musician having an intense activity as a member of "Aranjuez Guitar Quartet", playing also as soloist in Peru and Europe.
First guitar prizes and many other distinctions such as the First National Guitar Competition and International Studies in Spanish Music in Compostela as well as the first prize in professorship "Andrés Segovia" given by master David Russell take part of Luis Malca´s background.
Also an active teacher, he has given master classes in Peru and Spain. He is dedicated to musicological research at present, studying and performing original works for the guitar written by Peruvian composers from colonial period forward.
PROGRAM
Guitarra en el Perú en los siglos XVIII y XIX

I

Suite Barroca Peruana
(Libro de Zifra. 1805 / Cuaderno de Música para Guitarra de Mathias Maestro. Lima. 1786)
Sonata
Minueto de Landabere
Giga
Tocata
Fandango

5 Minuetos
(Pedro Ximénez Abril Tirado. Arequipa 1780-1856)
Minueto 21
Minueto 15
Minueto 13
Minueto 51
Minueto 16
Vals
(Máximo Puente–Arnao. Lima, finales del siglo XIX)
En busca de lo ideal



II

Dos mazurcas
(Máximo Puente–Arnao. Lima, finales del siglo XIX)
Brisas campestres
Grato recuerdo

Dos Polkas
(Máximo Puente–Arnao. Lima, finales del siglo XIX)
Remembranzas
Simpatía recíproca


Dos piezas populares peruanas
Danza (L. Brouwer)
Vals (I. Granda)
Start: 20:30h
Address: Guitarras de Luthier
Price: 5 €
LIMITED PLACES: Booking to guitarrasdeluthier@yahoo.es