Ergonomic Guitar Rests
News published on 01/01/2014
Finding the right posture to hold and play the guitar is not always easy. Young students or amateurs will just need a footrest to provide the right height to place the guitar properly where they feel it more comfortable and easier to play.
However, as we progress in terms of demand level and hours of study, some back-aches or pain in the joints could appear, as a consequence of the "not so natural" body posture we adopt while playing. These discomforts may worsen in time, even becoming injuries.
This is where ergonomic supports come in our help: their main benefit is to allow for a more natural, less straining posture, while enabling the ideal positioning and angle of the guitar for playing.
Which support is recommended to minimize discomfort? We cannot say there is a universal support that is ideal for all guitarists; there are, however, many different solutions for all kinds of guitarists, regardless of their height or musical style. As usual, the best option is to try and see what fits best; sometimes we may observe a big change, both in terms of a more solid and less straining posture, avoiding discomfort and allowing us to enjoy our guitar to the fullest.
At Guitarras de Luthier we have three types of ergonomic supports, which we describe below, including their benefits and drawbacks:
Alzador Gitano (Gypsy Lifter)
The more practical and economical of the three. Easily placed on the guitar's hoops by means of two sucking pads. To find the right posture we should vary the position of the sucking pads, running them up or down the hoops until we find the most suitable position. It offers few adjustment options, being restricted to placement on the guitar. However, it is easily bended, and the guitar may be kept with the lifter attached to its hoops, which is an unquestionable advantage. Its sucking pads are harmless to the guitar, although if the sticking/unsticking operation is performed too often, it could cause some damage in guitars with more delicate finishings, such as shellac. In conclusion, the gypsy lifter if a practical and economical solution, although a little less versatile than other supports. Suitable both for classical and flamenco guitars.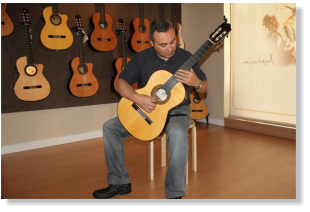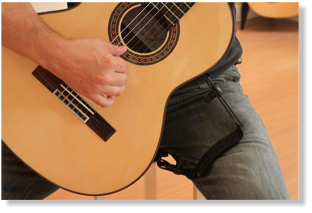 ErgoPlay
Offering undisputable quality and extraordinary versatility, with this support it is impossible not to find the posture we need. Without a doubt, it is the most flexible and versatile support of the three. The ErgoPlay range offers two professional models: Tröster and Tappert. Both models are attached to the guitar via high-quality sucking pads, which also come with a flange to ease detachment. Tröster model comes with four fixing points, Tappert has three; in both cases, the support is firmly attached to the guitar, conferring safety and solidity. The Tröster model has two adjustable arms for length and angle, allowing us to reach an optimal position, irrespective of our height or requirements. Tappert model comes with only one adjustable arm, although it is also very versatile. The easy detachment of sucking pads minimizes any potential damages to the guitar's surface. This support could require some adjustment time, but its versatility to obtain the right posture and its firmness guarantee a discomfort-free and 100% safe playing. As a drawback, the support must be re-placed and re-adjusted every time we take the guitar out of its case. Both ErgoPlay models are suitable for classical and flamenco guitars.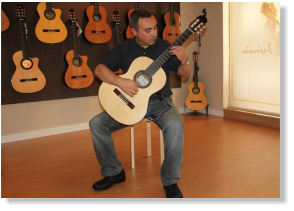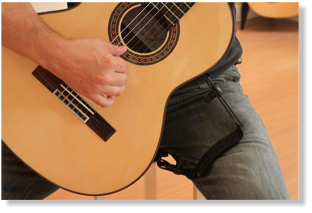 Dynarette
Este This ergonomic support is a curious cushion, thoroughly studied by its designers to fit your leg like a glove, providing the perfect shape to hold and place your guitar. The lower part comes with a strip of adhesive fabric to firmly fix the cushion to your leg. Dynarette comes in two sizes, allowing you to easily reach a comfortable position, although it is not as versatile as ErgoPlay. However, it is very easy to use, and adaptation is almost immediate. Padded with a high quality leather-like fabric, it also has a zipper in case we want to remove its coating to wash it. It comes in a practical bag that makes it much easier to carry. Using Dynarette does not entail any damages to the guitar's surface, regardless of finishing. Its price is similar to the German model ErgoPlay. This support is recommended for classical guitars.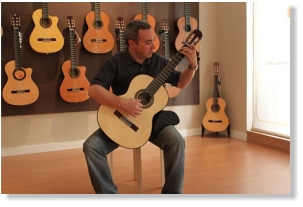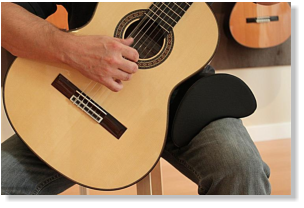 Which is the best and most convenient support? As usual, we recommend that you try them out to see which one best suits your style and posture. What is clear is that, if we feel any discomfort after playing for some time, we should definitely get a device to alleviate it. We will benefit substantially from it in the long-run: we will avoid injuries while spending more time enjoying our guitar. Remarkable benefits for a small investment.
Enter our
YouTube
channel to see a description video for the three supports.