Programs:
- Intensives courses for all levels and ages.
- Development of music capacities and techniques.
- Learning great Spanish guitar pieces
- Special courses for beginners
- Family program, planned for several family members
- Children's Orchestra


Schedule:
- Weekly courses of 5 hours.
- 1 hour daily or 1,5 hours three days a week.
- Price: 160€; individual course


Dates:
Monday to Friday from 10h to 14h / from 17h a 20 h. Saturdays from 10h a 14h.



TEACHER:

David González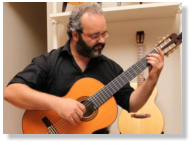 Professor of guitar by the Royal Conservatory of Music of Madrid and vihuelista. His main training as guitarist is by Domingo Carbajal, disciple of Regino Sáinz de la Maza.
He has completed complementary training courses with Enrique Blanco (Composition and Contemporary Contrapuntal Forms), Emilio Molina (Improvisation), José Luis Rodrigo, Demetrio Ballesteros and David Russell (Guitar Performance). His experience as a concert performer ranges from solo performance to participation in guitar groups (Francisco Tárrega and Regino Sáinz de la Maza, Madrid Quartet, Andante Quartet), chamber music and orchestra.
At the "Los Divinos" festival, he shared the stage with the great Paco de Lucía. He has made recordings for Radio 2 Clásica, R.A.I. 1, TVE, Warner Music, Elliot Records and Universal.
In March 2003 he received a scholarship from the prestigious New York schools Mannes College of Music and Manhattan School of Music. Between August and September of the same year is required for the recording of a disc with Montserrat Caballé entitled "Medieval music and the Spanish Renaissance for voice and vihuela". At the end of the same year she was commissioned to make arrangements for a second album with the singer that focuses on adaptations to the XVI century style of twenty songs of Alfonso X. Between September and October 2004 he made his third consecutive work with Montserrat Caballé in collaboration with the guitarist Jorge Miguel González, the recording of the album: "The romantic Spanish song" awarded with GRAMMY LATINO 2007 for the best classical music album.
He has currently performed a concert tour with Vasko Vassilev and the Soloists of Covent Garden performing at festivals such as Monserrat, ORFIM and the Veranos de la Villa de Madrid, work combined with his participation in the group Ricercata Music, formed by Jorge Miguel González and the soprano Teresa Barrientos with whom he has participated in numerous concerts of the Classics in Summer cycle and of the 2006 programming of the Network of Theaters of the Community of Madrid. Since 2007 he collaborates with his concerts with NATIONAL HERITAGE.
In 2010 he released his first solo album BACH CHACONNE.
In 2012 he released his second solo album NOCTURNAL OP.70, both produced by César Fernández Sánchez. In this second album counts on the brilliant collaborations of José Luis Montón (flamenco guitar) and Teresa Barrientos (voice). Both works receive praiseworthy reviews from great artists such as Víctor Erice, Luis de Pablo, Enrique Blanco, Vasko Vassilev, Serranito and specialized journalists such as Carlos de Matesanz (Radio Clásica), Patricia Ortega (El País), Javier López Prieto (La Razón), Ángel Sánchez Manglanos (The guitar, Radio Clásica) and Santiago Acedo (Onda Madrid) among others.
At the end of 2012, another recording work was released in collaboration with José Luis Montón and the collaboration of Juan Carlos Aracil (flute), entitled CLAVILEÑO, a special amalgam of two worlds that premiered at the Petrer Guitar Festival and which, in 2014, it could listened in the festivals in Finland and Zurich.