Agenda of events
Argentine Folklore Concert - Arturo Zeballos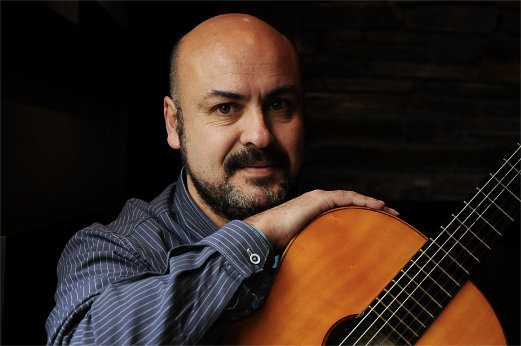 ARTURO ZEBALLOS
Streaming Concert
It can be followed live on our Face Book channel

Arturo Zeballos is considered for many of his colleagues and musical critics like a one of the classical guitarists more interested and more outstanding in the Argentinian and south-American composers for the guitar. He was born at Pergamino, Province of Buenos Aires (Argentina), he was inspired to study the guitar studies at the age of ten years, after that listening to the recordings made for greatest Argentinian musicians,  that were transmitted in the Argentinian broadcasting. 
After receiving eleven awards in national guitar competitions and festivals (1990-2004), he devoted himself to researching, transcribing, teaching and publishing a large part of the unedited repertoire for guitar by Argentinian authors who were little interpreted and especially between 1980 and 2001 dedicated itself to transcribing the complete works for guitar of Atahualpa Yupanqui, originals and arrangements covering approximately 110 pieces which have been published in First World edition in several books of scores and  CDs of audio with Spanish Guitar Music, Argentinian Guitar Folk Music Volume 1 / 3, and others 
As soloist he has made numerous presentations with important chamber orchestras, string quartets symphonic orchestras of Argentina and of Europe, performing: "Concert Op. 30", by Mauro Giuliani, "Fantasía para un Gentilhombre" and "Concierto de Aranjuez", both by Joaquín Rodrigo, "Geromita Linares", by Carlos Guastavino, "Suite Argentina" by Eduardo Falú, Hispanic Suite by Manuel del Olmo, and several concerts by Antonio Vivaldi and the Guitar Quintets Nr, 4, 7 and 9 by Luigi Boccherini. 
He performed recitals of Creole music of Argentina and South American composers in halls and festivals of Argentina, Chile, Peru, Ecuador, Colombia, Uruguay, Spain, France, Germany, Austria, Hungary, Holland, Italy, Portugal and Belgium (2001-2017). 
In recent years it has been presented with notable repercussions of public and critics in the 41 Guitar festival Johann Kaspar Mertz of Bartiaslava, Slovakia, 11th International Guitar Festival of Balatonfuredi (Hungary), Ferencs Liszt Academy (Budapest), Salón Provincial de la Guitarra de Avellaneda, Guitarras del Mundo (Argentina), Conservatorio Nacional Victoria de Los Angeles, Madrid (Spain), Biblioteca del Alcazar of Toledo (Spain), Festival of Music in Villeneuve-on-Lot (France), presentations on the Radio
France
and
University
of
Music
of
Nanterre
(Paris,
France
),
Bonner
Gitarre
Konzert
2017
(Bonn-Germany),
Musikschule Frasdorf
(Germany),
Stuttgart
Gitarre
Fest
(Germany
2016),
Krems
Musikschule
(Austria),
International
Festival
"La
Guitarra argentina"
cycle
In  "Casal de Barri," Barcelona (Spain), "Festival Andes y Sierras (2013 and 2014) (Córdoba-Argentina), first and second International Guitar Festival of the National University of San Juan (Auditorio Juan Victoria) 2015, "Festival Latinoamericano de Danza y Música de
Cali"
2005
(Colombia),
Salón Provincial de la Guitarra de
Avellaneda,(2005, 2008 and 2013)
(Argentina),
"
Festival Internacional de guitarra clásica de Bahía
Blanca
2010",
"
Festival
Latin
oamerican
o de
Antofagasta
2005"
and "Festival Latinoamericano de Vicuña
2016"
(Chile).
  PROGRAM: PANORAMA DE LA GUITARRA ARGENTINA
Arrangements and Transcriptions by Arturo Zeballos 

Date:
 17th of June
Time:
 20:30h
Place:
 Guitarras de Luthier - Madrid