Agenda of events
Guitar Concert - Sanja Plohl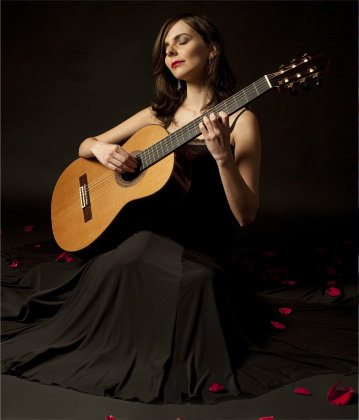 SANJA PLOHL
The Slovenian Sanja Plohl is one of the most outstanding classical guitarists of her generation. Her performances have been received with excellent reviews and recognitions from the public and specialized press (Classical guitar magazine, Guitarre Aktuell, RTVE etc). She has won more than 30 international awards including the first prize in the Cordoba Guitar Festival, the International Guitar Competition of Seville, "Ivor Mairants Award" (London), L'Arjau Musical Performance Contest (Barcelona), Guitarmania Festival (Lisbon) ), Contest "Ciudad de Llerena", "Comarca el Condado" international competition (Jaén), as well as the public prize in the "Miguel Llobet" (Barcelona) and "Luys Milán" (Valencia) competitions. 
Her broad repertoire includes music from the last five centuries, highlighting a special interest in the study and interpretation of Ibero-American music. Apart from his participation in different sets of chamber music, she has given recitals in important venues and festivals in cities such as London, Athens, Madrid, Lisbon, Istanbul, Barcelona, ​​Ljubljana, Vienna, Cordoba, Pescara, Seville, Gerona, Linares, La Haya or Bournemouth and has acted as a soloist with Spanish, German and Dutch orchestras. In October 2012 she released her first album "Danseuse dans Grenade" with the Spanish label Iberia Classical. He has also made different recordings and broadcasts for radio and television, including the one for the Latin American music recital, recorded and retransmitted by Slovenian national television in 2009. She often collaborates with contemporary composers, having premiered many of his works. In parallel to her performances, she teaches courses in different conservatories and international music festivals (Spain, Slovenia, Turkey). 
Sanja received a degree in classical guitar with Thomas Offermann at the Conservatory of Music and Theater in Rostock (Germany), an acting master with Zoran Dukić at the Royal Conservatory in The Hague (Netherlands) and postgraduate studies with Eliot Fisk, Ricardo Gallén and Marco Tamayo at the Mozarteum University of Salzburg (Austria). She expanded her studies with Àlex Garrobé and Fernando Rodríguez in Barcelona, ​​with Oscar Ghiglia in Siena and received master classes from other renowned figures in the world of interpretation and composition. Her career has been supported by grants from the Ministry of Culture of Slovenia, the Dutch government (Huygens program), Zois fund, Soroptimist International, Yehudi Menuhin-Live music now Foundation, Accademia Chigiana, Music in Compostela and Alhambra Reserva 1925. Since 2009 she resides in Spain. 
Program
Walter Heinze (1943-2005)
Dice la llanura (Preludio criollo) 
Johann Sebastian Bach (1685-1750):
2º Sonata para violin solo BWV 1003;  Grave - Fuga - Andante - Allegro 
Carlos Guastavino (1912-2000)

Tres Cantinelas; La Casa, Santa Fé para llorar, Santa Fé antiguo

César Guerra- Peixe (1914-1993)
Sonata para guitarra; Allegro - Larghetto - Vivacissimo 
José Luis Merlin (1952)
Suite del Recuerdo
Evocación - Zamba - Chacarera - Carnevalito - Evocación - Joropo  
Date:
29 Nov.
Time:
20:30h
Price:
10 €
Place:
Guitarras de Luthier - Madrid
Booking:
guitarrasdeluthier@yahoo.es