Agenda of events
Guitar Concert - Thu Le & Marco Tamayo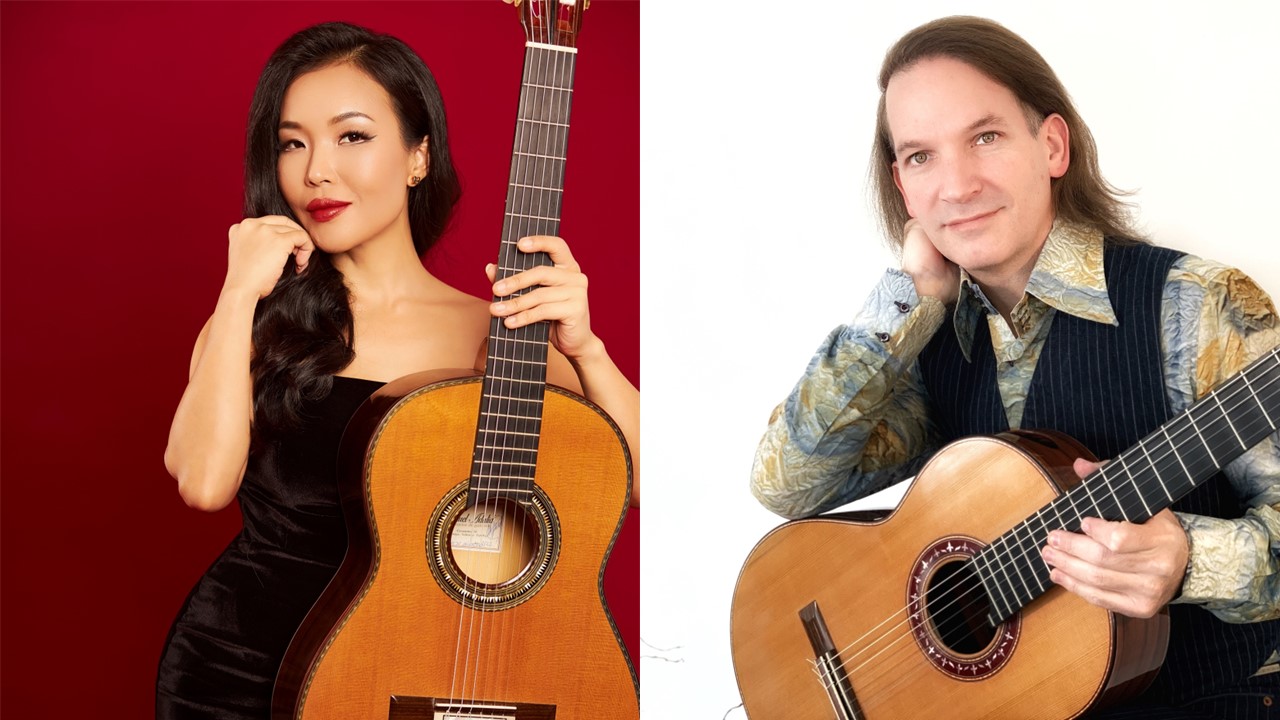 Concert by Thu Le & Marco Tamayo
A unique opportunity to enjoy in Madrid of two great guitarists who have performed all over the world in the best stages.
THU LE
Thu Le is an International award winning classical guitarist and one of the world's most influential performers. The Hanoi born guitarist is currently living in Bahrain.
She brings to her mesmerizing performances a unique blend of passion, colour and personality which perfectly complements her undoubted musicality and technical prowess.
Thu Le's love affair with the guitar began at the age of four thanks to her father, Le Hanh. At the age of five she gave her first public performance in Vietnam under his tutorship.
Thereafter, her relationship with her guitar blossomed and her journey continued at a relentless pace. She passed the entrance examination for the National Conservatory of Music, Hanoi at the age of only seven, making her the youngest ever student to be admitted to this prestigious establishment.
Thu Le's passion for guitar has seen her perform globally, including Spain, Italy, England, France, Austria, Germany, Holland, USA, Canada, Bulgaria, Romania, Vietnam, Thailand, Malaysia, India, Nepal, Turkey, Saudi Arabia, Bahrain, South Korea and China.
Thu Le was invited to perform, judge competitions and hold master classes at prestigious Guitar festivals all over the world, like Guitar Foundation of America, Calcutta International Guitar Festival, Joaquin Rodrigo Festival in Spain, Bearn Guitar Festival in France and many others.
Besides her solo career she also collaborates and performs with orchestras, string quartets, vocalists, violinists and flutists.
Since 2022, Thu Le has been one of the key performers in the International Guitar Night series, playing multiple concerts across North America and Europe – tours that she will participate in again during 2023 and 2024.
MARCO TAMAYO
Marco Tamayo, the Cuban guitarist with Austrian citizenship, acclaimed as the "Il Re della Chitarra" (The king of the guitar) has preserved his international reputation in all fields of classical guitar. Marco Tamayo, the new Professor for classical guitar at the Universität der Künste Berlin (UDK) is winner of major international competitions with more than 25 awards among which we can list the International Guitar Competition Michele Pittaluga -Cita di Alessandria / Italy, International Guitar Competition Andrés Segovia / Spain, Vienna-Rust, Nikita Koshkin International Guitar Competition / Austria, Leo Brouwer International Guitar Competition in Havana / Cuba. Marco Tamayo is a well-known soloist and cooperates with different chamber music ensembles. His repertory includes all different styles and is considerably large.
As a president of Jury panels and organiser of guitar festivals, Marco Tamayo has gained experience since early age. Lately, his interest in composition has lead him to create new literature for the instrument.
Marco Tamayo started playing guitar at the early age of three (3) years old, he was hailed as a Prodigy child at the age of six and his first international tour took place in Europe when the young guitarist was ten years old. The tour included Germany (former DDR) and Bulgaria.
His pedagogical experience counts with Professorship at the Sidney University /Australia, at the GMPU / Austria, at the Mozarteum University of Arts-Salzburg /Austria, at the Academy of arts Gdanks /Poland, and recently he won, among more than 400 guitarists from all over the world, the Professorship at the UDK Berlin. His class is joined by guitarists from all around the globe. Most of them are now well-known guitarists in the international scene.
Marco Tamayo is the Artistic Director of the "Michele Pittaluga Int. Guitar contest" (since 1999, year in which he won the competition), and director and founder of the "Klagenfurt Int. Competition and Festival" in Austria (event that ended last 2020). He is also an Honorary Citizen of the City of Solero and Alessandria, both in Italy.
Tamayo is the Chairman of Marco Tamayo Edition, a publishing house created in 2014.
Program of the Concert:THU LE
1- Vals for Atom (Laurent Boutros)
2- Introduction y Rondo Brilliante Op2.no2 ( Dinisio Aguado)
3- Six Balkan miniatures (Dusan Bogdanovic)
4- El Choclo (Angel Villoldo/ arr. Roland Dyens)
5- Cavalcade (Mathias Duplessy)
MARCO TAMAYO
1- Les barricades mystérieuses; F. Couperin (Arrang. Marco Tamayo)
2- Gran solo op. 14; F. Sor
3- Valse sentimentale op. 51, nr. 6 (Arrang. M. Tamayo); P. I. Tchaikovsky
4- Vals op. 8 Nr 4; A. Barrios Mangoré
5- Variations on the theme "Il carnevale di Venezia"; F. Tárrega
Duo THU LE - MARCO TAMAYO
Serenade Op.96 (F. Carulli)

Price:
10 €
Date:
 15th of September, 2023
Time
: 20:30h
Place:
Guitarras de Luthier - Madrid
Booking:
guitarrasdeluthier@yahoo.es