News: Ricardo Gallén - Complete Lute Works
News published on 04/01/2014
Price: 16 €
Ordering HERE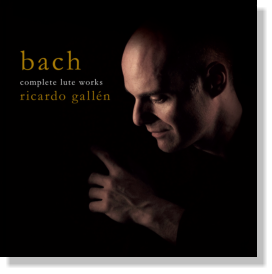 The music of Bach has been a part of Gallén's life since his boyhood when he was introduced to the Brandenburg Concertos. He studied the work of the composer throughout his tenure in conservatory. Gallén first played the lute works of Bach in concert in 2006.
Bach wrote suites for lute throughout a thirty-year period. The earliest - BWV996 - was believed to have been composed from 1712 to 1717. There have been conflicting theories about the initial instruments Bach wrote these pieces for. Some believe they were harpsichord suites while some felt that these pieces were written for a harpsichord lute. Though the original scores could be seen to originate with either of these possibilities, the music has become quintessential music for the classical guitar.
The inspired interpretations of Suite BMW995, Suite BMW996, Suite BMW997, and Partita BMW1006a are wholly original and breathtaking. Gallén also includes Bach's shorter works for lute, including Fuga BMW1000, Prelude BMW999, and Prelude, Fugue & Allegro BMW998. François Couperin's Les Barricades Mysterieuses, originally written for harpsichord in 1717, concludes this marvelous collection.
Ricardo Gallén has become one of the most important practitioners on the classical guitar. His recording Bach - Complete Lute Works has proven to be an important document of Gallén's unique and researched approach to the music of the master composer Johann Sebastian Bach.