Hnos Sanchis López guitars now available at Guitarras de Luthier
News published on 07/01/2014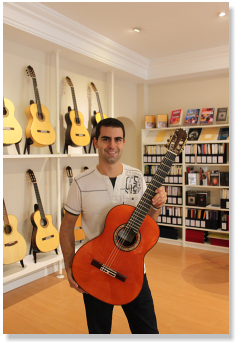 Guitarras de Luthier is pleased to announce that we incorporate in our offer the prestigious Hermanos Sanchis Lopez guitars.

David and German are worthy successors of a dynasty of luthiers with almost 100 years of history. Young but with the background and experience of its heritage and tradition, they have kept the essence of the Spanish guitar, but evolving it to reach a proposal that complies with current requirement of guitarists.

Their flamenco guitars are very popular and admired in the flamenco world for its distinctive tone, depth and genuine flamenco sound.

In Guitarras de Luthier we are proud and honored to represent Hermanos Sanchis Lopez Guitars

We will soon have a large sample of his guitars to test in our store.

On Saturday October 26 David Sanchis Lopez himself delivered us the first instrument, a flamenco guitar model 1F Extra with spruce top and back and sides made of Indian rosewood.

An excellent example of the expertise of Hermanos Sanchis Lopez, with the characteristic tone of his flamenco guitars that has become world famous.