Agenda of events
Guitar Concert - Maria Esther Guzman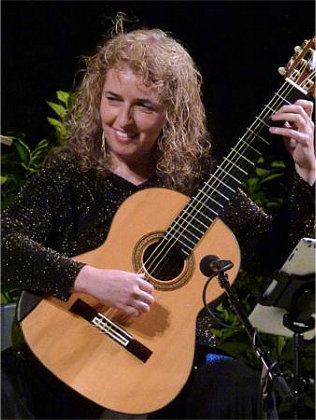 MARÍA ESTHER GUZMAN 
María Esther descends through the mother line of an extensive dynasty of musicians, the "Guervós", a surname she has in 8th place; they came from the Netherlands and the first of them entered Spain with the Music Chapel of Carlos I, giving rise to a long succession of musicians in all generations, to this day. Continuer of this dynasty, María Esther was born in Seville, made her presentation in public at age 4 at the Lope de Vega Theater in her hometown, at 11 she won the first prize at RTVE being the president of the jury the Maestro Joaquín Rodrigo. At 12 she is listened to by Maestro A. Segovia, receiving her praise and advice, and in that same year she is selected to perform at the National Musical Youth Tribune in Ibiza, where she had a resounding success with audiences and critics. 
She made his career at the Superior Conservatory of Music in Seville, under the direction of América Martínez, perfecting with Masters A. Carlevaro, L. Brouwer, N. Yepes, A. Díaz and D. Russell, among others. She has obtained 6 First National and 13 International Awards. 
Tireless traveler, her presence is requested by the most important stages of Europe, Asia and America, either in recital or with orchestra, under the direction of Teachers such as: E.Gª Asensio, L. Brouwer, C. Metters, O. Alonso, C. Florea, P. Halffter, etc. Apart from her activity as soloist, she regularly performs with numerous chamber groups and forms duo with flutist Luís Orden, guitarist Takeshi Tezuka and trio MeSaMor with Vicent Morelló (flute) and Sarah Roper (oboe). 
She has performed in important venues such as the Teatro Real de Madrid (1st National JJ.MM Prize, 1984), Concertgebouw in Amsterdam, National Auditorium in Madrid, Palau de la Música in Valencia, Santander Festivals Palace, Sala Cemal Resit Reg of Istanbul, and in the Theaters Zarzuela of Madrid, National of Buenos Aires, National of Costa Rica, Maestranza and Lope de Vega of Seville, etc., as well as prestigious Chambers of Japan. 
She has premiered the work "Que buen Caminito" by J. Rodrigo in 1987, and "Paseo de los Tristes" by J. García Román in 1993 with the Orquesta de Córdoba directed by Leo Brouwer, recording on CD. She also made the premieres of four Quixote commemorative works dedicated to María Esther, and another 3 in tribute to the Sevillian composer M. Castillo at the Santander International Festival in 2005 and the Spring Festival at JJ.MM. of Seville in 2006, respectively. She has made the premiere in Asia of the Toccata by J. Rodrigo, in 2009 he premiered the Concert for guitar and orchestra of C. Cruz de Castro with the RTVE Orchestra and in 2012 the "Concierto de La Herradura" by E. Morales-Caso , making live record recording. It is worth mentioning her annual tours and recordings in Japan since 1988. She has recorded 1 LP, 28 CDs, 4 videos and 1 DVD. Culture Award "Andalucía Joven de Música" 1994. RITMO magazine award for its J. Arcas CD. In 1998 she was honored at JJ.MM. of Seville for its "Silver Wedding" with Music. 
She teaches private classes in Seville and master classes both in Spain and abroad. Since 2002 she is a Numerary Academician of the Royal Academy of Fine Arts of Sta. Isabel de Hungría of Seville. In 2011 she was awarded the "Trujamán" Guitar Prize for his artistic career, delivered at the Palau de la Música in Valencia and at the end of 2012 the Andrés Segovia Medal, awarded by the Fundación A. Segovia de Linares. At the end of 2014 she founded her own Editorial, to publish her numerous transcriptions and arrangements for solo guitar and chamber music. Master's Degree in Musical Research by UNIR (2017). Currently she is part of the management team of Juventudes Musicales de Sevilla and since 2017, founds and directs the "Young Orchestra of Guitars" of said institution.
 PRESENTATION OF CD "ANDALUZA"  Program
Works by: Sáinz de la Maza, Llobet, Granados, Albéniz, Mompou...  
Date:
12 Dec.
Time:
20:30h
Price:
10 €
Place:
Guitarras de Luthier - Madrid
Booking:
guitarrasdeluthier@yahoo.es