Agenda of events
Guitar Concert - RCSMM Students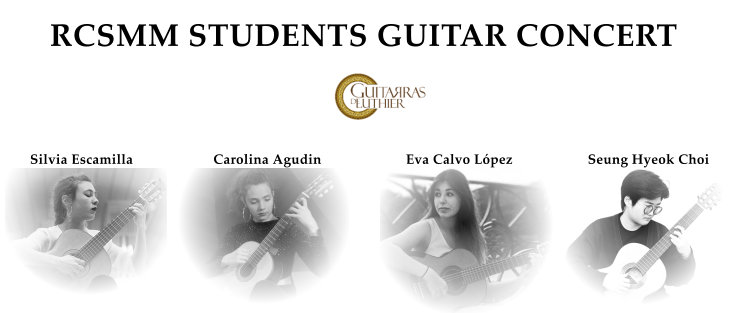 Silvia Escamilla
Silvia Escamilla Jiménez (Madrid, 1998) is currently studying 4th year of bachelor degree in Classical Guitar Performance at the Real Conservatorio Superior de Música de Madrid with Professor Javier Somoza. During the past year she was the holder of an Excellence Scholarship granted by the Community of Madrid.
She studied Professional Degree at the Padre Antonio Soler conservatory in San Lorenzo de El Escorial (Madrid) with Juan Manuel Cortés and José Carlos Baños. She finished her studies with distinction.
She has participated in music courses and has attended masterclasses with teacher such as Paolo Pegoraro, Goran Krivocapic, José María Gallardo del Rey, Joaquín Clerch, Miguel Trápaga, Antonio Duro, Thomas Müller Pering, Ricardo Gallén, Manuel Barrueco, David Russell, Zoran Dukic, Pedro Mateo González, Rafael Aguirre and Leo Brouwer among others.
She was finalist of the 45th Fernando SorInternational Guitar Competition, held at the Royal Academy of Fine Arts in Madrid in 2017. That year she was also selected to give a recital in the concert cycle of the IV Festival de Jóvenes Guitarristas "José Luis Rodrigo" in Madrid.
Carolina Agudín
Carolina Agudín starts her classical guitar studies at the Conservatory of Segovia, with Elisa Valbuena, Antonio Barrio and José Miguel de la Fuente. In 2015 she enters in Madrid Royal Conservatory, where she continues her career with Tomás Campos, studying now the last yesr of this degree. During these years, she receives masterclasses from Tomas Müller, Marcin Dylla, Margarita Escarpa, Andrea de Vitis, Paolo Pegoraro and Goran Krivokapic among others. She has given concerts as a soloist in important auditoriums like the Students Residence and Cibeles CentroCentro auditorium in Madrid.
Eva Calvo López
Born in 1998. She began her musical studies at the Professional Conservatory of Segovia with Professor Antonio Barrio. She studied at the Royal High Conservatory of Music in Madrid with Miguel Trápaga and Tomás Campos as well as at the Universität Mozarteum in Salzburg with Laura Young. As a soloist musician, she got the Scholarship "Society of Artists, Performers or Performers of Spain" in the "High Specialization" category and as a chamber musician she got 3rd prize in the Savarez-Corelli competition. She has performed in various locations both in Spain and in Austria.
Seung Hyeok Choi
Born on July 31, 1999, in South Korea, he is currently studying the 2nd Higher Guitar Course at the Royal High Conservatory of Music in Madrid with Maestro Javier Somoza.
Seung Hyeok Choi started studying guitar when he was 15, with Professor Jang Heum Bae. After finishing high school, he studied with Dae Kun Jang.
He won the 1st prize in the 7th edition of the Alhambra International Guitar Competition for young people.
He also won the 1st Prize of the 47th Edition of the Fernando Sor International Guitar Contest, and the 2nd Prize of the 14th Edition of the Anna Amalia International Contest for young performers.
Program:Silvia Escamilla
Introducción y Capricho op.23, Giulio Regondi (1822-1872)
BWV 996, J.S. Bach (1685-1750)
- Prelude y Presto
- Allemande
- Courante
Carolina Agudín
Cavatina, Alexandre Tansman
Eva Calvo
Sonata para guitarra Op.61. Joaquín Turina (1882-1949).
Seung Hyeok Choi
Sonata No.2 en Re menor de Eduardo López Chavarri.
Price:

 
10 €

Time:
 20:30h
Place:
 Guitarras de Luthier - Madrid
Booking:

 
guitarrasdeluthier@yahoo.es