Agenda of events
Concert Alma Brasileira - Iuri Bittar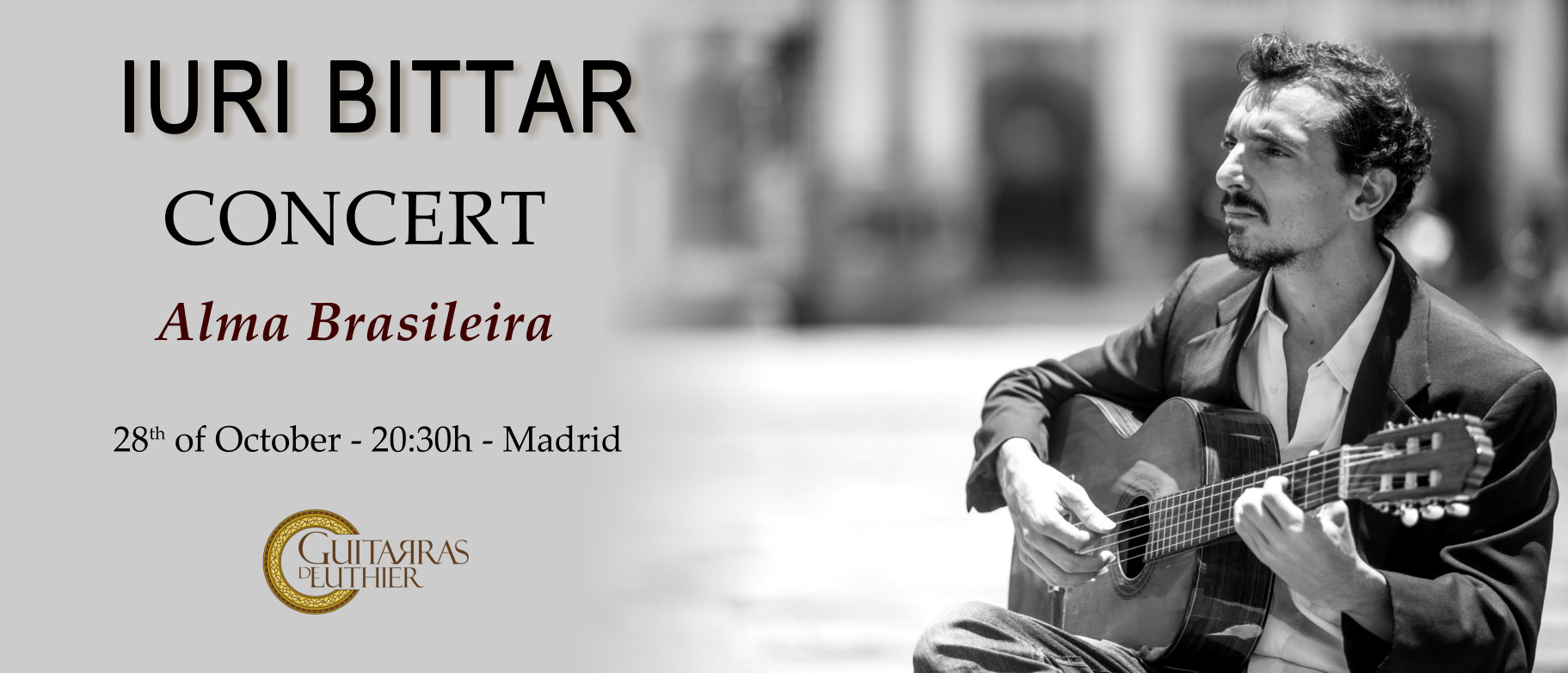 IURI BITTAR
Iuri Bittar is a guitarist, composer, music producer, and teacher. For the past 20 years, he has devoted himself to the study of acoustic guitar, especially Choro and Samba. Since 2012, he has also been a member of the teaching staff at Escola Portátil de Música and Instituto Casa do Choro, international references in the teaching and research of music through the language of choro. As an academic researcher, his pioneering Master's thesis on guitarist Jayme Florence, known as Meira, has become a reference in the historical and musicological study of the Brazilian guitar. In his 20-year career as a guitarist, Iuri has been a member of several Choro and Samba groups and performed alongside renowned Brazilian musicians such as Paulinho da Viola, Paulo César Pinheiro, Luciana Rabello, Áurea Martins, Monarco, Nelson Sargento, Pedro Amorim, and João Camarero, among others. In 2022, Iuri Bittar releases his first solo guitar album, Alma Brasileira, on the Biscoito Fino imprimt, which features new arrangements for works by Ernesto Nazareth and Radamés Gnattali.
"Brazilian music needs this kind of work from an artist who is solely committed to beauty and depth. I was deeply moved by Iuri Bittar's version for a Radamés Gnattali piece."
Guinga
(Guitarist and composer)
"Swing, technique, determination, all together!"
Ricardo Dias
(Luthier, writer, and violao.org forum moderator)
"A gifted guitar player! This album will contribute substantially to the Brazilian guitar literature".
João Camarero
(Guitarist, composer, and music producer)
CONCERT ALMA BRASILEIRA
The album Alma Brasileira, by guitarist Iuri Bittar, promises to be one of the highlights of 2022 among the brazilian guitar released albums. It will be launched on July 1 by the prestigious Brazilian recording company Biscoito Fino, and features unpublished arrangements for works by Ernesto Nazareth and Radamés Gnattali, two icons of Brazilian music.
For the concert on tour 2022, in addition to works by Ernesto Nazareth and Radamés Gnattali, Iuri Bittar includes pieces by great names in the Brazilian guitar, such as João Pernambuco and Dilermando Reis, as well as two works of his own, bringing out his composer side. All this is translated into a presentation full of lyricism, swing, grit and virtuoso, fundamental characteristics that place Iuri Bittar in a prominent place within the most Brazilian of musical genres, Choro.
Duration: 50 minutes
PROGRAMRADAMÉS GNATTALI (1906-1988)
Alma Brasileira
Brasiliana 13 - II Movimento - Valsa
Brasiliana 13 - III Movimento - Choro
ERNESTO NAZARETH (1863-1934)
Escorregando
Floraux
Myosótis
Plangente
JOÃO PERNAMBUCO (1883-1947)
Brasileirinho
Sons de Carrilhões
DILERMANDO REIS (1916-1977)
Tempo de criança
IURI BITTAR (1981)
Três corações
Três Colinas
Price:
10 €
Date:
 28th of October, 2022
Time
: 20:30h
Place:
Guitarras de Luthier - Madrid
Booking:
guitarrasdeluthier@yahoo.es