Agenda of events
Concert & Presentation - Edgar Mario Luna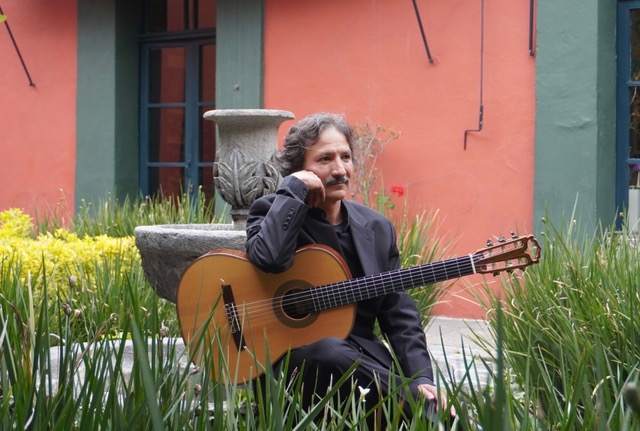 Edgar Mario Luna, GuitaristConcert & Presentation of CD: "De Julio César Oliva para Edgar Mario Luna"


Graduated with honors in 2002 from the National School of Music, today the Faculty of Music, of the National Autonomous University of Mexico under the chair of maestro Fernando Cruz. In 2011 he obtained a master's degree in Interpretation at the same institution, under the chair of teachers Juan Carlos Laguna and Antonio Corona. He received a scholarship from UNAM between 1999 and 2000, and from FONCA in 2002, 2020 and 2021.
Maestro Luna attended Master classes with Flavio Cucchi, Eduardo Martín, Robert Gauthrie, Gerardo Arriaga, Abel Carlevaro, Néstor Castañeda y León, Gonzálo Salazar, Leo Brouwer, David Russell and Shubhendra Rao, among others.
Among the concerts offered are the GUITUNAM University Guitar Meeting of the UNAM in 2022, 2021, 2006 and 2005; the II International Guitar Festival of the National Conservatory (2013), the Carlos Chávez Hall (2020, 2011, 2006 and 2005); the III National Guitar Festival at BUAP (2003); the Manuel M. Ponce hall of the Palacio de Bellas Artes in the framework of the XXX Anniversary of the League of Composers of Concert Music of Mexico (2003), as well as in the First International Meeting of Young Guitarists in (1999), among others. He has been a soloist with the Symphony Orchestra of the National Polytechnic Institute and with the Coyoacan Symphony Orchestra, interpreting the Concierto de Aranjuez, as well as the first guitar of the Concierto Andaluz for four guitars and orchestra by Joaquin Rodrigo. In 2003 he offered a concert in the Sala Mostre of the Palazzo della Provincia in Savona, Italy, having obtained second prize in the XI International Competition of said city in 2002. In 2009 he offered a concert at the University of California, Los Angeles (UCLA) in the United States.
In 2011 he released his first record production: a double CD with the complete four suites for lute by Johann Sebastian Bach in his own transcription, whose quality has been endorsed by renowned guitarists and international broadcasters. Maestro Juan Helguera referred to it as: "An outstanding album..." and presented fragments of it in his renowned program La Guitarra en el Mundo. For his part, Maestro Julio César Oliva commented: "Great work of transcription and adaptation of the four suites for lute, by Bach. In each of the performances it is possible to appreciate that the main thing is the music (as it was done in antiquity) and not personal brilliance, seeking applause. It is a mature, deep and sincere musical endeavor." Maestro Oliva himself has dedicated several works with which he has recorded a CD in 2022: "From Julio César Oliva to Edgar Mario Luna".
Price:
10 €
Date:
 5th of May, 2023
Time
: 20:30h
Place:
Guitarras de Luthier - Madrid
Booking:
guitarrasdeluthier@yahoo.es