Agenda of events
Concert & Presentation - Pedro Jesús Gómez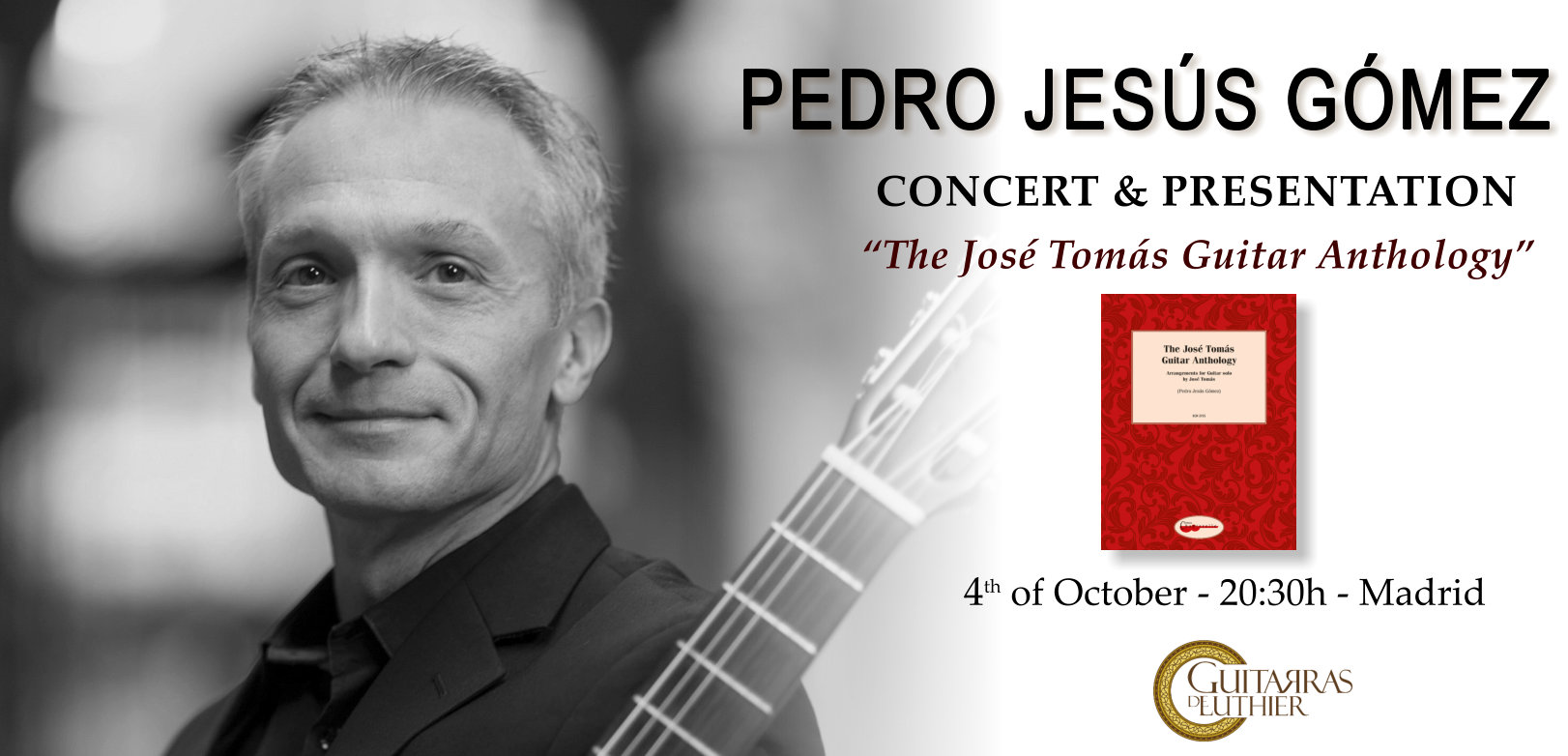 The José Tomás Guitar AnthologyConcert-Presentation
Presentation of the libretto edited by Chanterelle with 18 of the guitar transcriptions of the maestro from Alicante, unpublished, of all levels of difficulty and of all styles, from the Renaissance to Spanish music of the s. XX, in an authorized edition according to the original manuscripts of José Tomás, with a preface and edition notes by Pedro Jesús Gómez.
The presentation will be enlivened with a recital of various pieces by José Tomás performed by Pedro Jesús Gómez.
PEDRO JESÚS GÓMEZ:
Born in Albacete (Spain), he has obtained the degrees and worked with the following
teachers: Doctor in Music by the U.A.X (G. Arriaga), Master DEA in Musicology by the U.C.M
(Suárez-Pajares), Master in Guitar Performance (M. Barrueco), Guitar Professor Higher Degree
(José Tomás), Early Plucked Instruments Higher Degree (JM Moreno and JC de Mulder). He also
received the teachings, among others, of L. Brouwer, D. Russell, J. L. Rodrigo, Pepe Romero,
Carles Trepat, Jordi Savall, Hopkinson Smith or John Griffiths. He won the Andrés Segovia
International Guitar Prize.
Guitar Professor at R.C.S.M. in Madrid. He holded the chair of guitar teaching and as a
profesor of tablature and through-bass in the Castilla la Mancha Higher Conservatory of Music.
He has performed concert tours as a soloist, in groups and with orchestras, masterclasses,
conferences and has taught courses in 10 countries around Europe, North and South America,
playing for H.M. Queen Sofia of Spain. He has published 11 CDs, as well as books and articles
for Arsis, Six per Vuit, Vanitas, Q.T.V. Classics. He is an artista of Mediaset Co., having performed
in Radio and TV in Europe and America. He has been a member of juries at International
Competitions of Cincilia, Ciutat d'Elx, "José Tomás", Molina de Segura, Almería "Julián Arcas".
He has made premieres and first recordings of contemporary live composers such as
Salvador Brotons, Enrique Igoa, Hernán Navarro, Roxana Paredes or David Cuevas.
He has published 11 CDs, being a pioneer in the publication of multimedia CDs with audio
including scores and musicological study, as well as a pioneer in the publication of live CDs with
Renaissance, Baroque, classical and contemporary repertoire (Live in Berlin, QTV, 2014). He has
also published books and musical research articles for ChanterelIe, I.E.A., Hispanica Lyra, S.G.R.
Magazine, CSMCLM Consonancias and Nombres propios de la guitarra in Córdoba Guitar
Festival.
He has given lectures, conferences, courses and masterclass at the Festivals: "José
Tomás - Villa de Petrer" International Guitar Festival Petrer, "Ciutat d'Elx" International Guitar
Festival, Cartagena Guitar Week, "Alcudia Valley" Guitar Festival, Córdoba International Guitar
Festival, International Journals of Guitar of Valencia, University of Castilla la Mancha,
Conservatory GB Martini of Bologna, Festival "Guitares du monde" Perpignan, Universidade de
São Paulo & Fundação das artes (Brasil), Universidade do Minho (Portugal) and Universidad
Nacional de Rosario (Argentina).
Since Leo Brouwer highlighted the professionalism of his performances, the specialized
critic has written: "His performance was impeccable,impressing the audience despite the
complexity of the works tackled with the guitar" (Violão Intercambio). "An exceptional concert,
with an indisputable attraction between virtuosity and emotion", "One of the most outstanding
European interpreters" (Tribune). "A warm, deep and very human reading, in an admirably played vihuela " (CD Compact). "... profound knowledge of the repertoire, knowing how to transmit its language both with a careful interpretation and with specific explanations of the performed works." (La Nueva España).
Date:
 4th of October, 2023
Time
: 20:30h
Place:
Guitarras de Luthier - Madrid
Booking:
guitarrasdeluthier@yahoo.es