Agenda of events
Concert - ALTER EGO Trio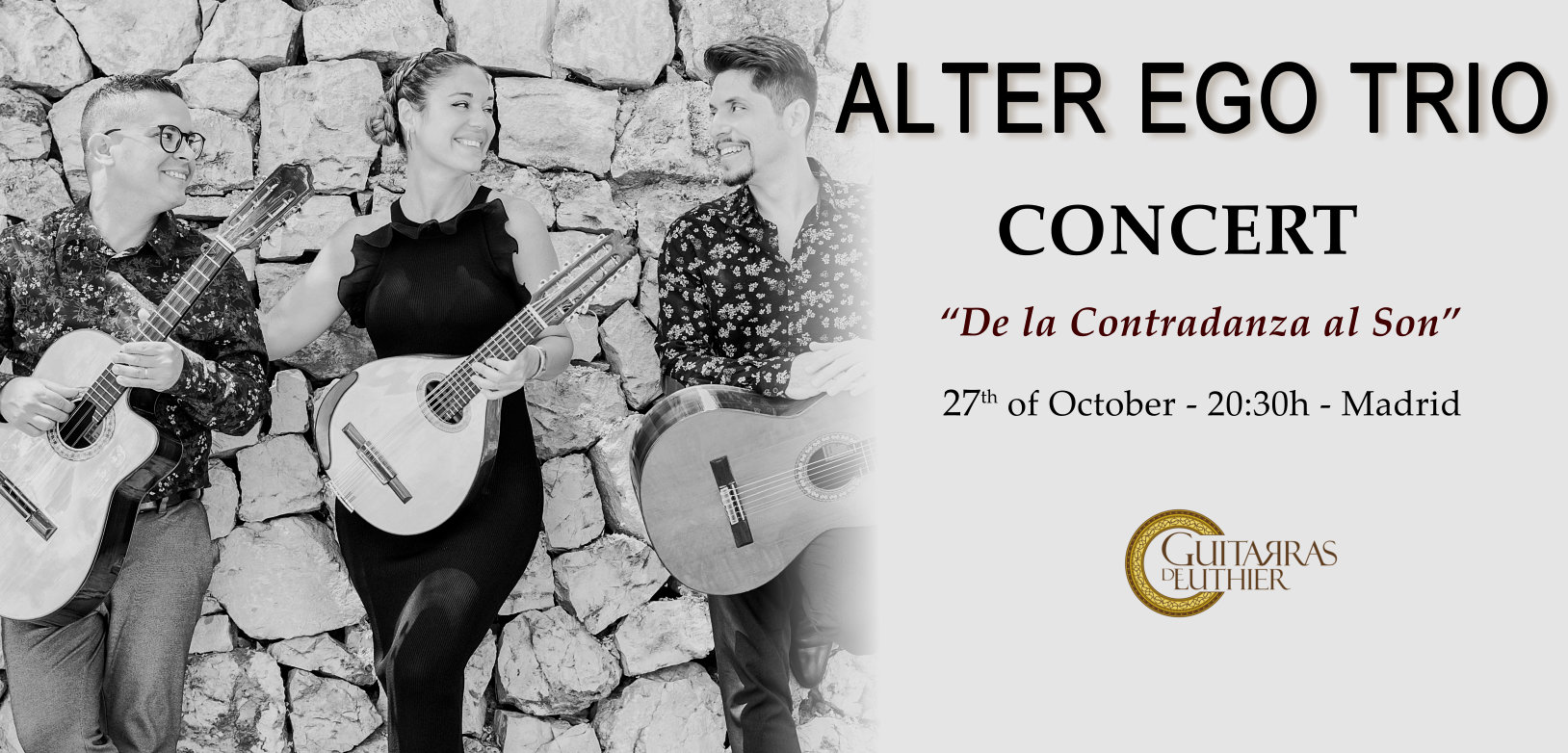 Alter Ego emerged in Cuba in 2005, under the direction of lutenist Diego Santiago.
A trio that shows instruments such as the three, the lute (bandurria contralto) and the guitar.
prominent instruments in the musical evolution of the most traditional genres of Cuban music
and still present in the works of contemporary composers.
The group was born to address a wide repertoire of works by Cuban composers, but also Latin
American and Caribbean, endowing their programs to a wide variety of musical genres and
without ceasing to be concert music instrumental.
Alter Ego is made up of Diego Santiago, Maryla Diaz and Miguel Veliz, three Cuban musicians
graduated from the Higher Institute of Art in Havana, now reuniting in Europe, and continuing to
champion Cuban music.
DIEGO SANTIAGO
Was born in Santa Clara (Cuba) in 1981. He began studying guitar at age 10 at the Olga Alonso Conservatory in his city.
In 1995 started playing plectrum instruments with Professor Niuver Navarro at the National School of Arts of Havana Later he on he studied Professor Efrain Amador at the Higher Institute of Art of Havana.
He has been a musical director and performer with projects such as Laudes de la Habana (Lutes from Havana).
Festivals he frequently appears as a soloist or with his Alter Ego trio include the International Festival of Contemporary Music" in Havana, the "International Festival of Plectrum Instruments" in Havana and international festivals such as the "International Festival Guitarras de América "in Chile, the "International Guitars of the World Festival" in Argentina and the "International Guitar Festival "of Freiburg.
MARYLA DÍAZ
Finished his guitar studies at the Vocational Art School of Matanzas (Cuba) in 1994.
Later she started learning plectrum instruments with professors Niuver Navarro and Efrain Amador at the National Art Conservatory of Havana.
During her studies, she won the first prize at Musicalia 2001 Also in those years, she was a member of the Plectro Trio, with which she participates in the first "International Festival of Women Guitarists held in Costa Rica.
As a member of the "Cuban Lutes" duo, she participated in the "International Festival of Pulse and Punch Instruments of Logroño.
She has currently finished her Master's degree in Musical Interpretation and Research at the International University of Valencia and continues her work as an instrumentalist, forming part of the City of La Mancha Orchestra and the Valencian Quintet Concuerda, and at the same time teaching plectrum at the Professional Music Conservatory José Tomás de Alicante.
MIGUEL VÉLIZ
Bachelor of Classical Guitar, from Granma, Cuba He began his music studies with seven years as a violinist at the Manuel Muñoz Cedeño Provincial School of Music, at age 10, he began guitar studies at the same institution receiving classes from Abel Sánchez and Rolando Morales.
In 2006, he enrolled at the University of the Arts of Cuba to do a Bachelor's Degree in Guitar culminating with a Gold Diploma He obtained Special Mention in the "Musicale contest of the music faculty in 2007 and 2009, in the latter year, he receives the First Mention of the jury in the International Competition of Young Jazzist of Cuba "Jazz", in the Composition Category, with the work "Modo y compas He recorded with the group "Aire de Concierto" on the debut album "Con clannete", where he participated as a guitarist, bassist, tresero, composer and arranger At the same time, he began collaborating with other groups dedicated to different musical genres such as "Olives without bones", "Klimax", "Portillo and Cauce" and the singer Leo Vera.
He has participated in phonograms of diverse styles as an interpreter, arranger and composer.
He currently works as a professor at the Caceres Music and Performing Arts Foundation.
Alter Ego Trío - "De la Contradanza al Son" Program:
1 Picotazos, Ignacio Cervantes
   Ilusiones Perdidas
   Muñecos
2 Amaneceres, Eduardo Martin
3 Guajira en miniatura, Eduardo Cana
4 Danzón pa mis viejos, Miguel Véliz
5 La felicidad, Pablo Milanés
6 Capullito de Alelí, Rafael Hernández Marín
7 Un día de Noviembre Leo Brouwer
8 Contradanza" Cecilia Valdez", Gonzalo Roig
9 Para soñar contigo, Eduardo Martin
10 Canción al abuelo, Norberto Rodríguez
11 Mambo #5, Damaso Pérez Prado
12 La Comparsa, Ernesto Lecuona.
Arrangements and versions of Alter Ego, except Miniature Guajira
Price:
10 €
Date:
 27th of October, 2023
Time
: 20:30h
Place:
Guitarras de Luthier - Madrid
Booking:
guitarrasdeluthier@yahoo.es