Agenda of events
Guitar Concert - Isabel Martinez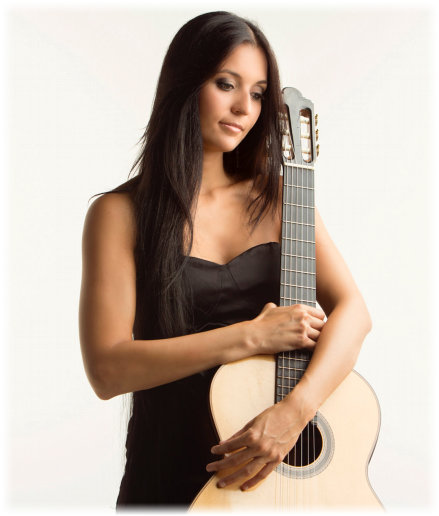 Spanish Guitar Concert & Presentation of her new CD "Noche Andaluza"
ISABEL MARTINEZ
The very talented Isabel Martínez has developed her craft by studying with some of the best Maestros of the Classical guitar of our time. She was the only Spanish guitarist selected into the prestigious "Master Guitarra Clásica" program at the University of Alicante, where she was praised by renowned guitarist Manuel Barrueco: "Isabel has distinguished herself as one of the best guitarists in this international group of high leveled musicians... a very refined, kind and intelligent person" .

She tours worldwide, and is regularly invited to perform at International Festivals including the Bath Guitar Festival in the UK, Semana de la Guitarra in Cartagena (Spain), Andes y Sierras Guitar Festival in Córdoba (Argentina), RS Guitar Festival in Porto Alegre (Brazil), and Festival de Guitarras in Cévennes (France), among others. Her recent appearances include a concert tour in China with the South Shore Orchestra (USA), as the guest soloist for the famous Concierto de Aranjuez.

Isabel Martínez was born in Cartagena and began playing guitar at the age of 7 under the tuition of Susi Alfonso. Upon the completion of her Undergraduate studies with Maestro Ignacio Rodes, she was awarded the Extraordinary Prize of Distinction in recognition of her academic and musical achievements from the Music Conservatory of Alicante.

Then Isabel auditioned for, and won a place in the prestigious Guilldhall School of Music and Drama in London. She completed a Master of Performace studying with Maestro Robert Brightmore and once again graduating with the highest grade of Distinction.

In addition, Isabel has also worked with internationally renowned musicians including David Russell, Manuel Barrueco, Hopkinson Smith, Paul O'Dette, José Miguel Moreno, Fabio Zanon, Roberto Aussel, Shin-Ichi Fukuda, Pavel Steidl, Graham Devine, Ricardo Gallén, Joaquín Clerch, Eduardo Baranzano, Eduardo Fernández, Carlo Marchione, Miguel Trápaga and David Miller.

She has been supported with generous scholarships from Telefónica, the Anglo-Spanish Society, Banco Sabadell Foundation, Adele Kramer-Chappell, The Music Students' Hostel Trust and The City of London Corporation Foundation.

In addition to her concert career, Isabel also shares her passion for music to a select group of students at the Conservatory of Music in San Javier (Murcia).

PROGRAM
Francisco Tárrega (1852-1909)
Capricho Árabe

Joaquín Turina (1882-1949)
Sonata para guitarra op. 61
I. Allegro - Allegretto tranquillo
II. Andante
III. Allegro vivo

Enrique Granados (1852-1909)
Danza española no. 5 "Andaluza"

Isaac Albéniz (1860-1909)
Granada

Joaquín Rodrigo (1901-1999)
Invocación y danza

Regino Sáinz de la Maza (1896-1981)
Rondeña
Zapateado


Start:              20:30h
Address:       Guitarras de Luthier
Price:              10 €
 
LIMITED PLACES: Booking to guitarrasdeluthier@yahoo.es