Agenda of events
Guitar Concert - Maria Ribera Gibal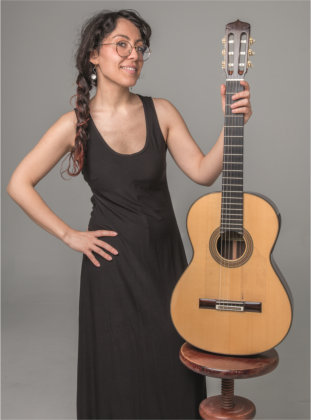 MARIA RIBERA GIBAL
Maria Ribera Gibal, born in the lands of Lleida, like Emili Pujol, but a century or more later than he, was formed in a guitar environment where he coincided with Pujol's disciples. The most significant aspect of that learning environment was the human and close admiration that was breathed towards the figure of said guitarist. 
This aroused in her a special interest in the work of the teacher, interest that over the years continued to increase. In 2011, Maria made the documentary "Emili Pujol, life teacher" with which she illustrated the relevance of the character. The young lady not only dedicates herself to the guitar as concertist and pedagogue, but she is also a doctor in art history, having made a doctoral thesis in which the life of Emili Pujol is outlined, and where some of the unpublished works of the Master are reconstructed. 
In 2018 the record work MARIA RIBERA GIBAL INTERPRETA EMILI PUJOL was published.
Maria has taught master classes, concerts and conferences at festivals, conservatories and schools, from different corners of Europe, but also in China, Japan ... 
MARIA RIBERA GIBAL PLAYS EMILI PUJOLPEDAGOGICAL CONCERT ON THE LIFE AND WORK OF PUJOL PROGRAM 

EMILI PUJOL (La Granadella 1886- 1980 Barcelona)
- Barcarola
- Rapsodia Valenciana
- Homenage a Tàrrega
- Preludio Romántico
- Scottisch Madrileny
- Manola del Avapiés (Tonadilla)
- Salve
- Fantasia breu
- Sevilla
- Estudio VI (Romàntic)
- Romanza
- Guajira 
Date:
27 Sep.
Time:
20:30h
Price:
10 €
Place:
Guitarras de Luthier - Madrid
Booking:
guitarrasdeluthier@yahoo.es